Naturopathy
If you're seeking an alternative to mainstream medical care, consider naturopathy. A naturopath is a professional therapist who addresses your health from a holistic point of view, rather than from a disease or symptom aspect. Naturopaths take a whole body approach to tackling disease, dealing with ill health and body dysfunctions by treating the person as a whole.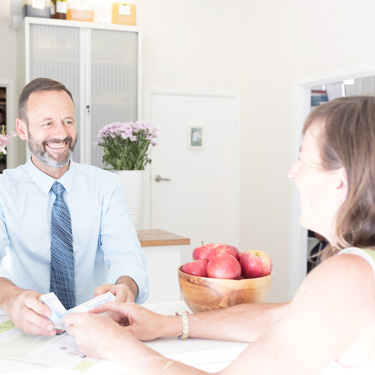 Qualified naturopaths are trained in many fields of natural medicines and therapies:
Aromatherapy
Herbal medicine
Hypnotherapy
Irodology
Nutrition
Naturopaths can often identify dis-ease before you start having any symptoms. With the guidance of your therapist, changes to your diet and lifestyle, natural therapy and some additional supplements, naturopaths can help to prevent the problem from worsening. In many cases, a naturopath's treatment may reverse the progress of the symptoms.
A chat with our naturopath Stuart Morick will help to identify the cause of your symptoms and set you on a path to better health and a life with less stress and disease.
I Am Always Tired—Should I Visit a Naturopath?
If you are feeling tired and not your usual self for most of the time, this is an excellent reason to visit Stuart here at Pure Health and Wellness Clinic.
A cause of extreme tiredness may be due to adrenal fatigue or adrenal insufficiency, a little-known disorder that may be missed by mainstream health professionals. It can mean that this condition is therefore not resolved properly. As a result, so many people keep going about their lives feeling exhausted all the time.
Extreme tiredness has many other causes; these include low vitamin B12 levels, anaemia, poor blood sugar control, lack of sleep, post viral fatigue, bacterial diseases and an unhealthy diet.
As we're just a phone call away, make an appointment to talk about your tiredness and fatigue or any other issues. Doing so can make a tremendous difference in how you feel every day.
It's also important to know that naturopaths are thoroughly trained and highly qualified natural therapists; therefore if your tiredness is due to a medical condition that requires mainstream treatment, you will be referred to your general practitioner for further investigation.
Some of the Conditions for Which We Provide Consultation
Stuart offers consultation for a broad range of health conditions including:
Asthma
Bowel diseases – including Crohn's and irritable bowel syndrome, gluten intolerance and ulcers. We can provide nutritional advice.
Cardiovascular system – heart conditions, high and low blood pressure.
Digestive system – digestive and bowel disorders such as diarrhoea, constipation and cramps.
Integumentary system – skin, hair and nail complaints, including hair loss, acne, dermatitis, eczema and psoriasis.
Immune system – allergic reactions, arthritic conditions, auto-immune diseases such as thyroid conditions, 'childhood' illnesses (such as measles, mumps) and chronic fatigue syndrome.
Musculoskeletal system – muscular injury and pain and bone healing.
The nervous system – stress, anxiety, depression and insomnia.
Reproductive system – fertility issues (men and women), pregnancy support, menopause, menstrual problems, endometriosis and PMS.
How Much Does Naturopathy Cost?
For more information about the fees at Pure Health and Wellness Clinic please refer to our New Clients page. You will find information about fees, health insurance claims, and more details to ensure you get the most out of your appointment with us.
Request a Consultation
Selecting naturopathic care is not about choosing between traditional medicine and naturopathy, as both treatment options can play a role in your wellbeing.
To make an appointment with Stuart at our Perth practice, contact us on (08) 9378 2774.
---
Pure Health and Wellness Clinic | (08) 9378 2774